The US Pan Asian American Chamber of Commerce Education Foundation (USPAACC) will hold its 25th Anniversary CelebrAsian Business Opportunity Conference on May 25-27, 2010 at the Omni Shoreham hotel and The Ritz-Carlton, in Washington, DC. Special events will also be held at The U.S. Capitol.
PepsiCo Chairman and CEO Indra Nooyi is the Conference Chair; PepsiCo and Wells Fargo are the Corporate Co-Chairs; and Alorica, Inc. is the Asian American Business Co-Chair. They lead a roster of over 50 Fortune Corporations, Federal Agencies, Asian American-owned businesses, and media partners who have already committed to sponsoring and participating in this Conference. Special guests from the U.S. Congress and other top executives from Fortune Corporations and leaders of national organizations are expected to attend.
In all, over 800 Conference participants from all over the country are expected to come to the nation's capital—where USPAACC was founded a quarter-century ago—to celebrate this auspicious and important milestone.
"Our Conference theme '25th Anniversary: The Best is Yet to Come' speaks volumes about what our organization has accomplished—amidst triumphs and tribulations—and where we are headed," said Susan Au Allen, USPAACC National President & CEO. "We stand on the shoulders of giants who have laid the groundwork for Asian Americans to be successful in the mainstream, and we will honor and continue their legacy by opening more doors to opportunities that lead to greater success."
The Program Agenda is focused on achieving robust business growth and wealth-creating opportunities, as well as turning the spotlight on and learning from the achievements of successful businesses: International CEO Forum; Congressional Reception; "How I Built a $300 Million Business through Federal Contracting;" "How We Built a $120 Million Business through Corporate Contracting;" Nuts & Bolts of Successfully Marketing and Doing Business with Corporations; Summit on the Future of Supplier Diversity and Federal Small Business Programs; Where Are the Green Opportunities and How to Access Them; USPAACC/Wells Fargo Asian Business Leadership Award Luncheon; 25th Anniversary Awards & Recognition Gala; Presentation of the Fast 50 Asian American Businesses; Guanxi* Supplier Opportunity Fair; One-on-One Prescheduled Business Matchmaking Meetings; Business Leaders & Scholarship Luncheon; and much more (*a commonly used business term meaning "connections" or "relationship").
For more information, sponsorship opportunities or to register for the Conference, visit
www.uspaacc.com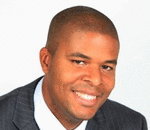 Posted By: Dante Lee
Wednesday, March 17th 2010 at 1:46PM
You can also
click here to view all posts by this author...